Updated: Nov 28, 2021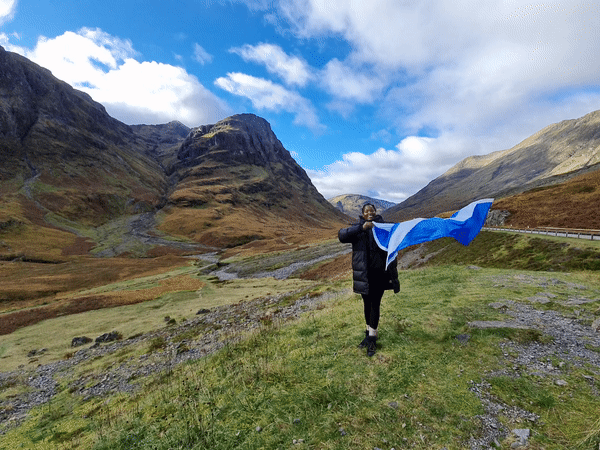 Date: October 2021
Weather: 10-12C, dry, sunny.
I travelled by:
Train, with Lumo. Journey time about 3hr 45mins. Comfy enough, all standard class carriages. Refreshment trolley service on board.
I stayed at:
The Kingsway Guesthouse , about 30mins walk from Edinburgh Waverley Station. Lovely, quiet area, lovely quiet, comfy accommodation
I ate:
- Deep fried Mars bar (never again. It's like eating diabetes.)
- Deep fried haggis, with chunky chips and gravy (maybe again. I ordered delivery from some takeaway place, and it wasn't good. Probably best to go to an actual restaurant for it, I feel). I like greasy food, but all this together was a lot
- Cranachan from Deacon Brodies Tavern (very sweet, but I highly recommend it, and also recommend the pub).
- Deeeeelicious ice cream from the famous Scotch Corner of Pitlochry
- I gave haggis another try. This time with tattie scones, at the lovely guesthouse where I was staying. And this time, I enjoyed it.
I drank:
Whisky, of course. Bunnahabain, was recommended by Michael, our tour guide on the 12-hour Highlands tour I took (keep readin'...).
I saw:
So much of Scotland's beauty on the coach tour I took with the exceptional Hairy Coo Tours company, including two hairy coos! Hamish Dubh (pronounced 'Doo'. It means 'black'), and Honey, and a double rainbow! All the way across the sky!
See what I saw:
We left at 7am, got back to Edinburgh city centre just after 8pm, and our guide, Michael Mitchell, was so marvellous, he deserves his own video segment:
Michael informing us of the prize money for a photo of Nessie
I also saw Loch Ness (no monster, but I still recommend the 40-min boat tour for the beauty of the Loch), the Highlands, various castles and ruins, and I was given a lot of fascinating Scottish history alongside some cutting jokes, and dry Scottish wit. Michael, you rule.
And, to pass the time between checking out of the guesthouse and catching my train, I saw my new favourite piece of art, at National Galleries of Scotland (free entry, but pre-book online. I did it on my phone right by the entrance).
I heard: Scottish music of all kinds, via a playlist compiled by the exceptional tour guide on the Hairy Coo tour, Michael Mitchell. A favourite was '17 Again' by Tidelines, but I loved the traditional bagpipe music the most. It made driving through the scenery all the more moving.
I walked: Holyrood Park, up to Arthur's Seat. A vigorous walk, it took me about 90 minutes to get up there and back.
Worth getting out of bed? DEFINITELY
If you can dream it, you can deep fry it...